I've been thinking about getting a height adjustable table for my home office for months, possibly even years, but never got around doing it because of either price or just not being motivated enough to do it.

I recently noticed that IKEA sells an electric frame for my IKEA Galant table that doesn't cost a fortune anymore. It might be it's always had that price but my starting knee/back pain and realization that I won't get a new body by magic made me think 499 CHF was a sweat deal for a healthier working life. That made me go ahead and get an adjustable desk plus use the pegboard solution to handle all the devices and wires I need to have mounted near my desk.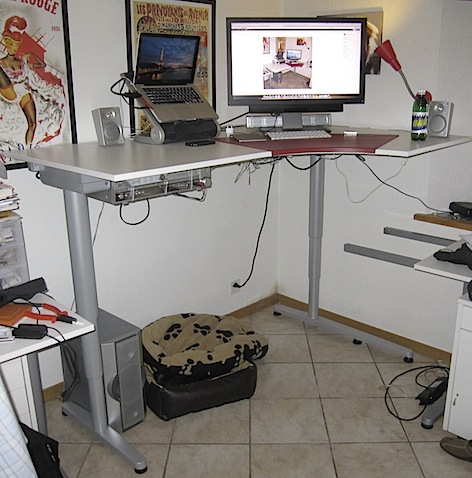 Since I got inspired by others writing about similar changes to their office I thought I would add my story to the mix too hoping that can encourage others to try it out.

Getting the materials

The full list of materials I used were:

1 IKEA Galant electric raisable legs frame (bought in a Danish IKEA, Swiss IKEA only have the square version)

2 pcs. of custom-cut pegboards to fit into the frame of the Galant desk

6 shackle "rings" from a padlock shackle (bought in Landi, similar to this from Amazon)

6 small round wooden dowels

Many tens of long and small cable ties

Getting the two main parts turned out to be a bit more difficult than anticipated. Firstly, I learned that not all IKEA's are created equally. In Denmark you can buy the adjustable frame for both the square and the corner version of Galant, but in Switzerland you can only buy the square version even though they do sell the corner desk.

Luckily my parents were about to embark on their annual vacation to Switzerland and I convinced my father to go to their "local" IKEA and pickup the corner version of the frame.

Beyond having to get my parents to bring the corner frame from Denmark another tricky part of this setup was that pegboards weren't easy to come by in my area. None of the common places like Jumbo, Landi or Coop had it thus I ended up having to custom order a full-sized 2.5 x 2.5 m pegboard from HGC for ~40 CHF.

But don't let that discourage you - I live in a "rural" area :), btw. an alternative to the IKEA Galant frame is the desks from GeekDesk which even ships internationally - it's more expensive but at least it exists as an option.
Construction
Note, if you click on the images below they will link to a more detailed image with notes on the various parts if you are interested in the details of what is shown on the pictures.

Assembly of the frame for the Galant is pretty straight forward, just removed the old and added in the new.Installing the pegboard and configuring it was a bit more work.

First, add the shackles on which to install the pegboard.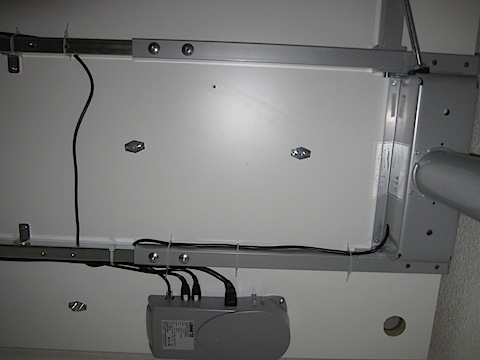 Secondly, drill hole in pegboard and check if it can be easily installed.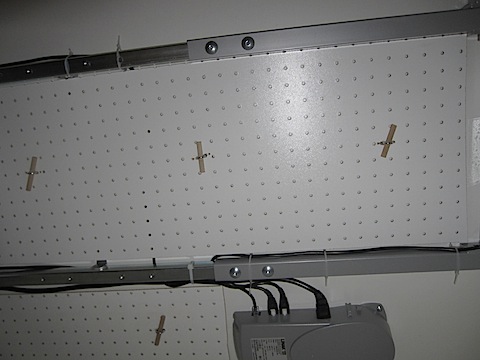 As a last minute thing I decided to mount a leftover Phillips MX 5100 Home Audio System directly on the frame just by adding a bunch of cable ties together and tighten them well.

.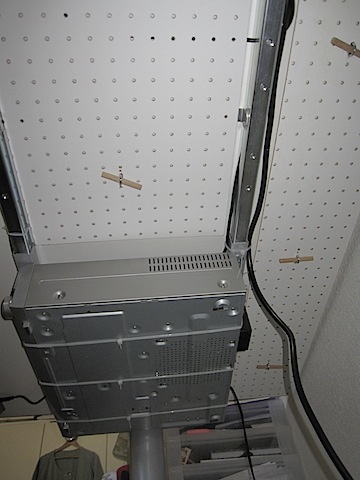 Once that was all up it was time to start configuring the pegboards with my "Stuff".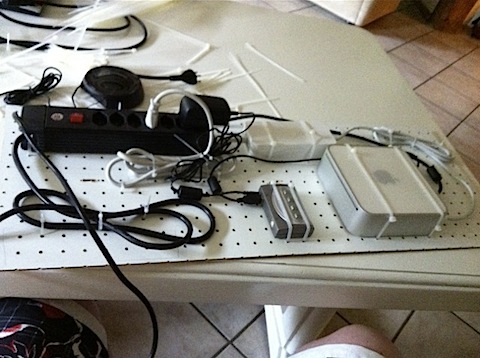 This is really where this setup shines, because it is using the shackle+dowel I could easily try out some options before installing and if in the future I need to change something I can easily reconfigure it.

Here is the best shots I could get of the final pegboard configuration mounted on the desk (click on the image to see details):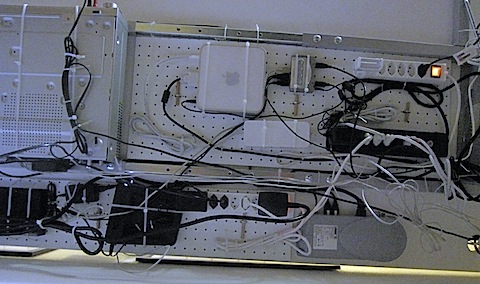 This photo shows how "flat" the setup is and everything is out of your way - none of what you see there bumps into my knee(s) neither when I stand or sit at the table.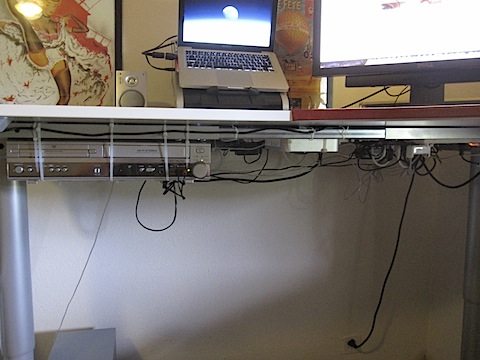 And here is the final result "lowered" to the sitting position: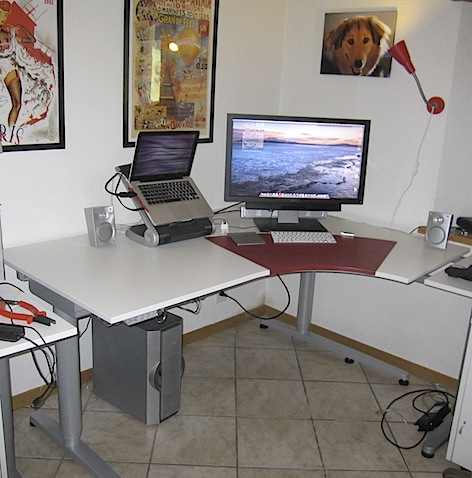 And finally, my long awaited end result, my standing desk with (almost) no wires visible: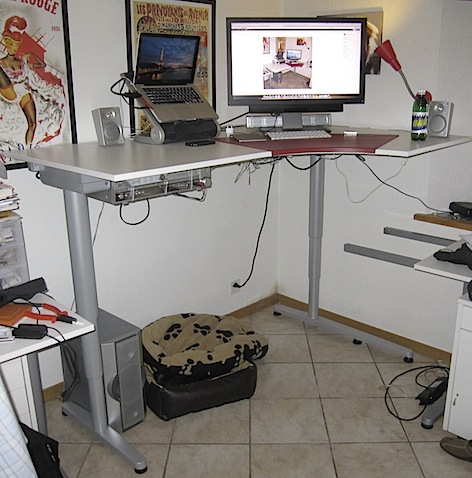 I've also uploaded a flickr set for this with some more details about the photo's.

Hope you like it and it shows that it's not that hard to do - Now I just need to start getting my back and legs used to standing up, I hear that is rather painful the first couple of days/weeks.

Lisbeth and I normally try to throw a Danish Christmas party every year and this time was no exception; and I even got to have some fun geek-pimping the event.

This time around I had setup my 52" TV to have a slide show of gorgeous Christmas style pictures mixed in with photos taken during the party transferred wireless via an Eye-Fi card and had it synced across two laptops via Dropbox and to top it all off I were taking a picture every 15-seconds to be able to do a "high-speed" playback of the whole event to the tunes of the "Benny Hill" theme song.



Below I'll outline the things I did to make it all happen.

What I used in the process:

* 52" Sony LCD TV * Mac Mini * Eye-Fi X2 Pro * OSX built-in screensaver (since no other app out there does it right) * Hazel w/Apple Script * Macbook Pro * Gawker * Some hours of searching for initial images
"Live" screenshow:
The setup is simple.

First you configure your Eye-fi card to place the photos in a specfic directory, i.e. "/Users/max/Pictures/incoming".

Secondly you configure Hazel to on any change to that directory to move the file to the location you want the screensaver to pick up the files, i.e. I used "/Users/max/Dropbox/screensaver" which is in my Dropbox so I could easily sync to another machine when needed. Then add an Apple script action to Hazel that contains the following code:
tell application id "com.apple.ScreenSaver.Engine" to quit
tell application "ScreenSaverEngine" to activate
Those two lines are needed to have the Screen Saver restart to make it pickup any new photos coming in.

Finally, you need to enable and configure the Screen Saver to pick up the pictures from the "screensaver" directory. Beyond that I believe I used the default transition settings since they give a very smooth but still somewhat dynamic experience.

With those things in place every time I took a picture with my camera containing the Eye-Fi card it would automatically upload the photos, restart the screen saver and eventually the photo taken would show up.

I would say it is important to pre-load your screen saver folder with some beautiful images (search for 1080p desktop backgrounds will give you a good start); otherwise the same, possibly ugly and boring photos taken in the beginning of the evening will be shown again and again. It's better to have it spread out with something beautiful in the middle.

And for those who are curious, the reason for the Hazel/script instead of i.e. a scrip that reloads the screensaver every 5 minutes is to avoid to constantly see the Screen Saver stop and then start again. With this solution you only get a reload when it is actually need. You could probably do this without Hazel and just use Folder Actions but Hazel is just simpler to setup.
Screensaver Synced to another screen
Having the screensaver synched to another screen I did because our party is "spread" over two rooms. It was remarkably simple to do since I already configured Hazel to move the files to Dropbox and therefore the only thing I had to do on the second machine was to setup a Hazel script or if you wish Folder Action to run the same script as shown above.

Then when Dropbox syncs over a new file the screen saver is automatically updated.
Recording the Party for later playback
For this I used Gawker which is a free opensource piece of software which only functionallity is to grab images from a source such as your webcam. Thus I simply configured Gawker to take a picture every 15 seconds with the built-in iSight of the Macbook pro and it automatically creates the video stream.

Before publishing the result I used iMovie to spice it up with some background music and cut out some boring segments to make it a bit more lively and the result is as seen above.

I had great fun setting this up, having a party and then edit the result and now you can too :)